AboutUs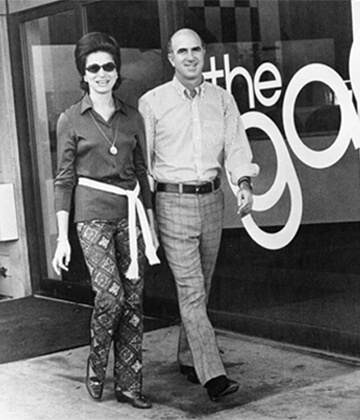 The right fit since 1969.
Doris and Don Fisher opened the first Gap store in 1969. The reason was simple. Don couldn't find a pair of jeans that fit.
They never expected to transform retail. But they did.
our history
Doris and Don Fisher opened the first Gap store in 1969 with a simple idea — to make it easier to find a pair of jeans — and a commitment to do more.
Over the last 49 years, the company has grown from a single store into a global fashion business with five brands: Gap, Banana Republic, Old Navy, Athleta and Intermix. We have more than 125,000 employees worldwide, more than 3,300 stores in 90 countries, several global e-commerce sites…and we're still growing.
We know that the only way we'll continue to grow successfully is by nurturing a strong, diverse team. Since Gap Inc.'s earliest days, diversity and inclusion have been woven into our DNA. For example, our employees came together to organize and run five business resource groups (BRGs) that not only support cross-functional networking, mentoring and community service, but also provide input on ways Gap Inc. can be more inclusive and respectful. In addition, these groups provide insights that help drive our business and help us create better product and experiences for our customers.
Gapeteria in San Francisco Headquarters
Gapeteria in New York Headquarters
New York Headquarters
New York Headquarters
Lobby in San Francisco Headquarters
Atrium in San Francisco Headquarters