Global Supply Chain& Product Operations
It's all about the flow.
The Gap Inc. Global Supply Chain and Product Operations team is composed of thousands of employees across the world working to bring together the art and science of creating the right product, made well and delivered at the right time.
Thanks to our enormous size and scale, we are uniquely positioned to drive transformative change in the retail industry through both brand collaboration and mill and vendor partnerships. As we work diligently to create operational efficiency and value to the business, our Global Supply Chain is without doubt the true product engine of the enterprise.
---
Think globally.
The best part of GSC is our people – across our divisions, we are comprised of individuals around the world, each unique in culture, career experience, and product expertise. We are united through our love of our iconic American fashion brands and our drive to create products that our customers love.
---
The product engine of Gap Inc.
In GSC, we bring product to life. We are strategists, forward-thinkers and industry experts – we incorporate market intelligence, innovation and technology to make, create and deliver the highest quality products into the hands and hearts of our customers.
---
Global Supply Chain & Product Operations By the Numbers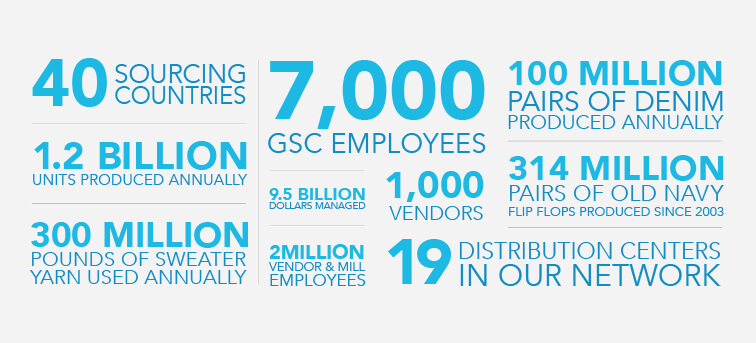 Being a part of Strategic Sourcing has given me countless opportunities to grow. Gap places a huge focus on career development to ensure employees are engaged within their current role, and are working towards future opportunities
I have the best colleagues and mentors who greatly support one another. Everyone wants to do what's right for the company and we have made tremendous changes in a better way.
I am inspired by great leaders and my co-workers who are always trying to push boundaries and share new ideas. I love the open work space collaboration, diversity, and the way we celebrate success!
What I love about working in GSC Strategic Sourcing is the effortless collaboration that happens among my peers and management. The synergy is awesome
My favorite part about my work is bringing great talent into the organization and being part of their growth and development. I am passionate about unlocking performance and linking passions with professions.
The best part about GSC is that you enable leaders to make informed decisions by revealing all those hidden secrets from data. We listen to our customers' behavior to make their shopping experience better…it's a proud feeling!
I love delivering software that helps my friends and colleagues to do their jobs better because that means they can really focus on creating great products and experiences for our customers
What I love about working as a Data Scientist is the variety, depth, and complexity of the problems we work on to drive efficiencies around the world and across our suite of brands