our stores
We love a friendly face.
Every Gap Inc. brand has its own unique personality, embodied in our stores by passionate people who thrive on creating places where customers love to shop. Our brands are distinctive, but the people who work in our stores share a lot of things in common.
Careers that start in our stores have a way of becoming lifelong journeys. We're a global company with unlimited opportunities — in stores and headquarters offices alike — for you to master new skills, take new directions and move your career to the next level (or even to another country).
Looking for a seasonal job? Learn More.
You're a good fit if you:
Can't help sharing your passion for fashion.
Know what it means to be a brand ambassador.
Enjoy creating a welcoming, sociable atmosphere.
Have a great eye for detail.
---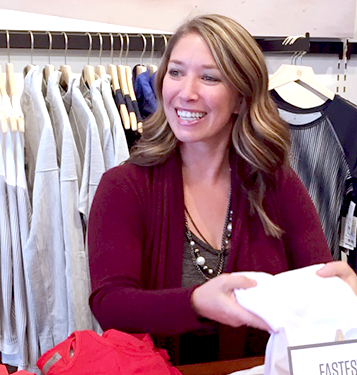 I started in 1998 as a part-time seasonal associate for Old Navy. Within the first week, I knew that I wanted to work past the holiday season. Fortunately, I was kept on after the holidays and knew that this was a place where I could have an amazing career.